Some of the gymnastics equipment that are available from NimbleSupply.net.
Gymnastics is a highly challenging sport and it requires specialized gymnastics equipment to ensure the safety of the gymnasts. It is important that the gymnastics equipment being used are reliable and of good quality.
 NimbleSupply.net is an online source of various gymnastics equipment such as balance beams, gymnastic mats, horizontal bars, and many more. If you are looking for a reliable supplier of gymnastics equipment online, you will surely find what you are looking for at NimbleSupply.net. Below are some of the products you can find on the site.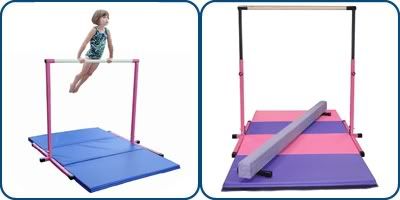 Balance Beams. These beams, which are long, narrow beams, are common sights in many gymnastic events. NimbleSupply.net offers several balance beams: low beams, high beams, adjustable beams, and folding beams. The site also offers beam braces which are meant to support the beams. The low beams are available as 6 ft, 8 ft, or 12 ft and they are supported by very low braces. On the other hand, high beams are only available as 8 ft or 12 ft beams and supported by 18-inch braces which are made from heavy grade steel. The adjustable beams are very similar to the high beams except that they are only available as 8 ft beams and the height of the braces can be easily adjusted. Lastly, the folding beams are available as 8 ft beams which can be folded into a 4 ft length for easy storage or transport. All the beams are available in tan, pink, blue, and purple colors. Aside from this, the beams are made from laminated wood with closed cell foam padding and wrapped with commercial grade synthetic suede.
Gymnastic Mats. Mats are among the most important items that gymnasts need to ensure their safety during their gymnastic stunts. NimbleSupply.net currently has three types of mats available: folding mats, sectional mats, and incline mats. The folding mats, which are available in 4×8 or 4×6 sizes, are the mats of choice if you want something that is easy to store and transport. The sectional mats, which are available in 2×4 or 4×8 sizes, can be easily linked with other mats so that you can setup bigger areas. Incline mats are different from folding mats and sectional mats because they are actually padded inclines.
Horizontal Bars. Another common sight in gymnastic events, NimbleSupply.net offers adjustable and non-adjustable bars. The adjustable bars can range from 3 feet to 5 feet in height while the non-adjustable bars are fixed at 4 feet. The bars are available in a variety of colors such as blue, pink, red, purple, and green. NimbleSupply.net also offers bar extensions if you would like to extend your horizontal bar some more.
All the products from NimbleSupply.net comes with a 1 year warranty, assuring you of the quality of all their products.